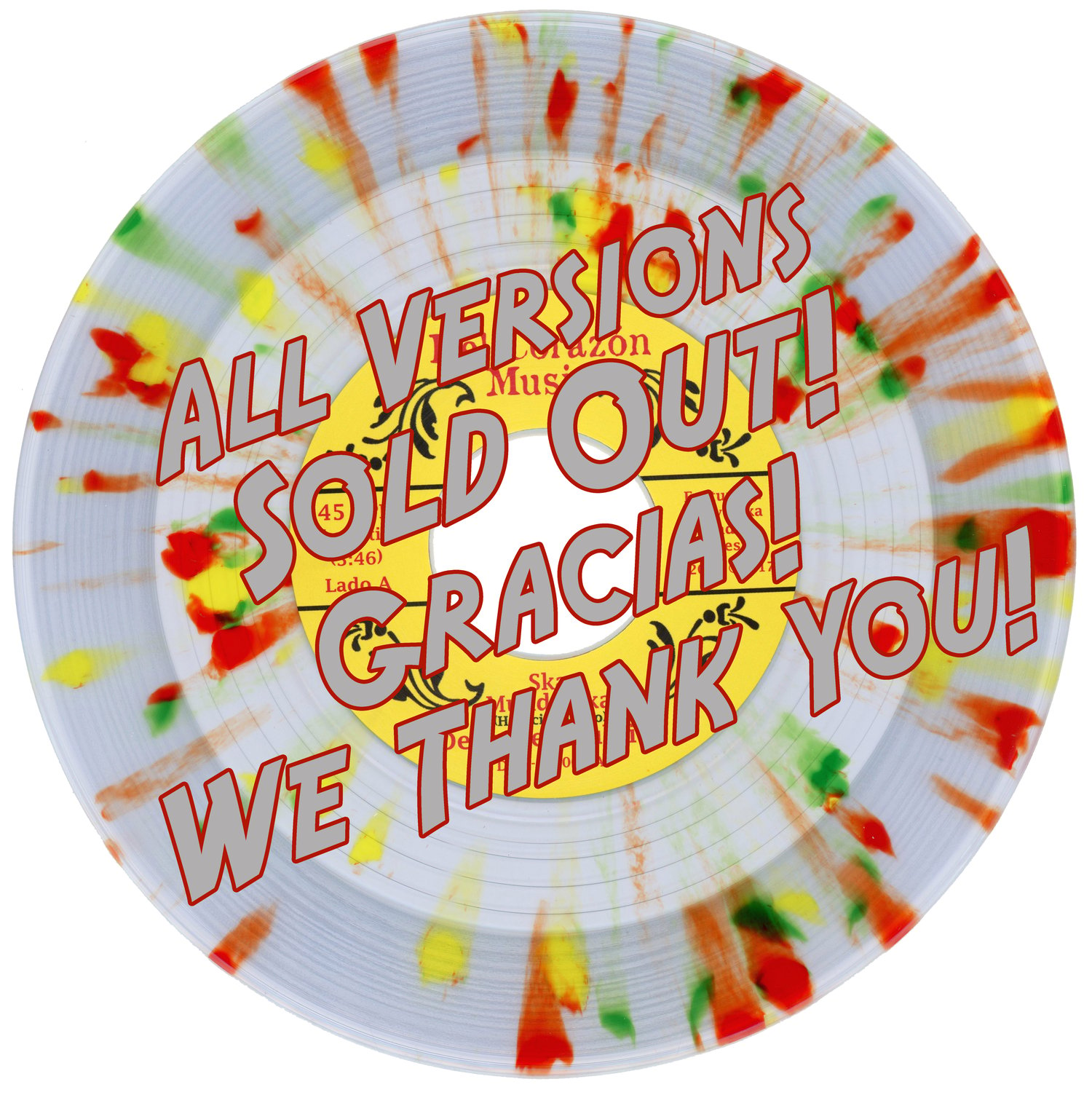 Desorden Público - (45rpm) "Ska Mundo Ska / Ska Mundo Ska (Mariachi Versión) **w/ download card +
It is with great joy that we present to you these 4 physical manifestations of our very next release, inspired by colors of liberation & unity, this is our humble tribute to a global movement which is brought together by the all-encompassing sounds of Reggae, Ska and in this case, the Afro-Latinx musical diaspora… Featuring 2 very distinct versions (and collaborations) of global proportions, we are honored to have Venezuela's own Desorden Público join forces with Hana Kobayashi & Tokyo Ska Paradise Orchestra on Side A, while Big Javy (from Inspector) and Horacio Blanco share vocal niceties on Side B, backed by Juan Gabriel's legendary Mariachi, on this very fine Mariachi-Ska duet (ajua!)… These platters go on sale TODAY (oi! oi! hoy!), as we thank everyone for another year of support! Limited Edition of 700, featuring a Japanese inspired OBI-Strip and our customary Download Card & Jukebox title-strip!... GRACIAS FAMILIA!!!
♡♡♡♡♡♡♡♡♡♡♡♡♡♡♡♡♡♡♡♡
Es con el mayor gusto que les presentamos nuestro siguiente lanzamiento, lo cual sale a la venta HOY, con tiraje limitado de 700pzs. en 4 diferentes colores, complimentado con el clásico OBI-Strip al estilo Japonés y una etiqueta para tu Rockola, estamos muy orgullos formar parte de esta familia Internacional (sin fronteras carajo!), y les agradecimos mucho la hermandad mutual (a todos!)... Junto con los compañeros de Desorden Público, Tokyo Ska Paradise Orchestra y Big Javy de Inspector, este disco realmente es una celebración del mentado tribu al nivel global que se une bajo una misma bandera musical!... Gracias por el apoyo familia!!!
Featuring 4 Great Limited Versions:
130 – Classic Black (Sold Out!)
180 – (½ & ½) Blood Red & Kelly Green w/ Neon Yellow Splatter! (Sold Out!)
180 – (Splatter) Ultra Clear w/ Blood Red, Piss Yellow & Kelly Green Splatter! (Sold Out!)
180 – (Tri-Color Stripes) Blood Red, Piss Yellow & Kelly Green Stripes! (Sold Out!)
GRACIAS!!!
*********************************