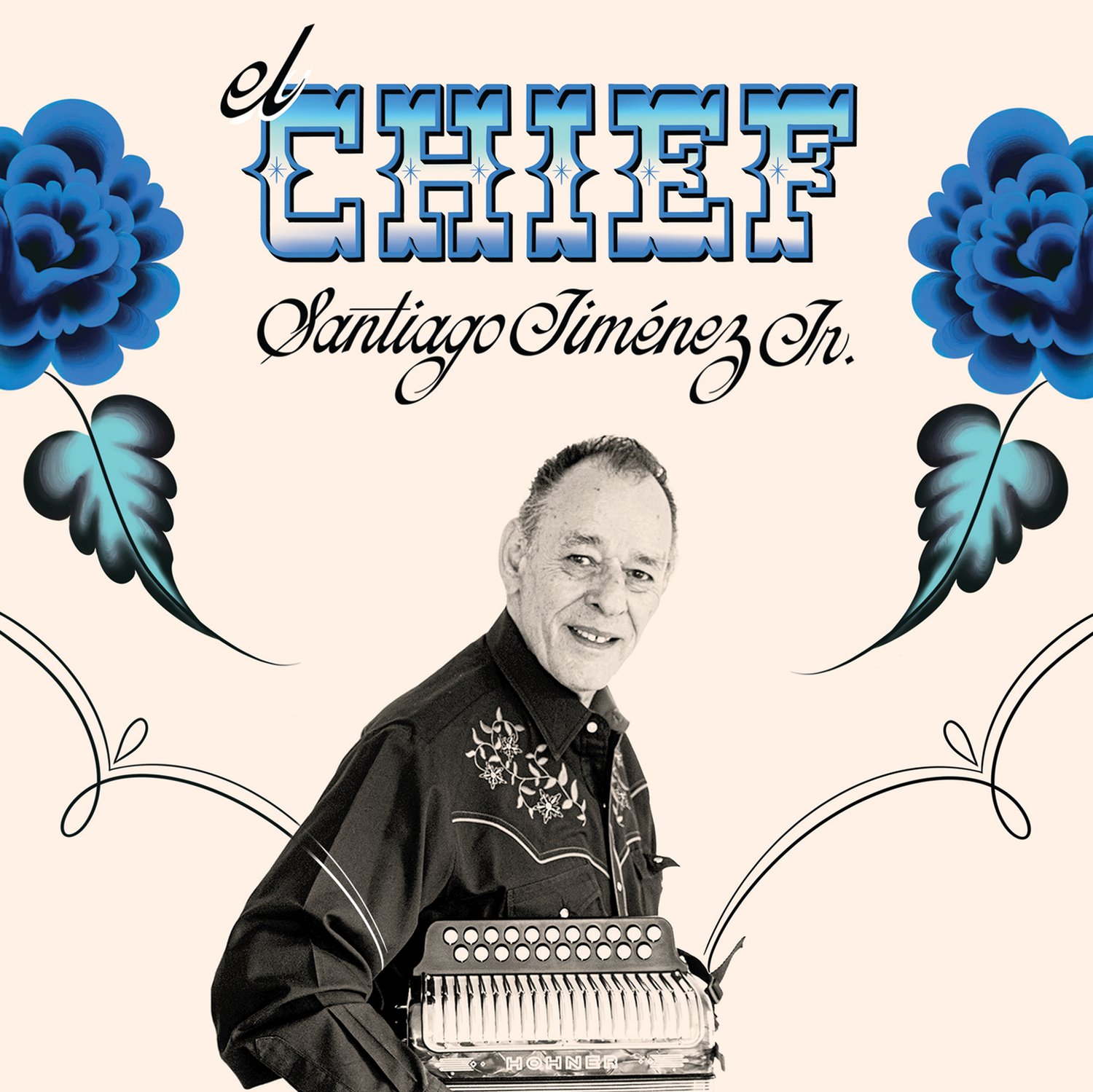 Santiago Jiménez Jr. - (4 Song EP) - "El Chief" w/ #'d Insert, Juke Box Title Strip & download card
DISCOUNT CODE: ELCHIEF
Presenting a 4 song EP by the influential and sensational Santiago Jiménez Jr., who can be heard here playing wonderfully intimate renditions of timeless classics in his typically melodic & flowing style, with a Signature touch that many have deemed as the enduring sound of traditional roots Mexican Conjunto accordion... Boasting a recording career which now spans over 60 years and countless sessions behind a microphone (or an instrument of some sort), we are truly honored to present this amazing Extended Play 45 titled "El Chief", which we view as an endearing testament to the work of a man (now 76 years young), who continues to enrich his already delightful body of work, with no signs of slowing down...
These 4 particular songs feature the classic themes of love, liquor and loss, which are all very emblematic of the genre itself, and have helped shape an infinite number of songs which have emanated from both the cantinas and the concert halls of South Texas, México and well beyond… It is through the tireless work of El Chief Santiago Jiménez Jr. that one can hear the uninterrupted evolution of this beautiful music, directly from someone who grew up alongside the genre itself, as he was quite literally born into a family of musical giants, with the work of his father Santiago Sr. looming large, as well as his older brother Leonardo "Flaco" Jiménez, whom all contributed integral parts to what has become the modern sound of Tejano music (no shit! (con todo respeto))…
And so, we hope that you enjoy this exciting recording and accompanying physical presentation which features a beautifully styled outer sleeve, 3 different vinyl options, a individually numbered "Insert", our customary Jukebox Title-Strip, Digital Download Card and to round out the physical presentation, we also snuck in a subtle homage to Santiago's very own record label called "Chief Records", with a playful embellishment on our typical Del Corazón Music center-label, which regular supporters of our Label (and Tejano vinyl collectors) are sure to recognize...
200 - Classic Black Vinyl
200 - Läger Light Version: Beer Colored Vinyl
350 - A/Side B/Side Version: Bone White & Brown w/ Electric Blue, Black &
Cyan Splatter!
Discos Del Maestro Santiago Jiménez Jr. Estarán Dispoinbles Desde Las 5pm Oi! En Día, Con Un Gran ReventOn (virtual) Programado Para El Sábado 23 De Enero Por Medio De Nuestros Pocos Redes Sociales (lo cuál alrato les pasamos los detalles), Con El Concierto Actualmente Empezando A Las 7pm Tiempo En San Francisco, 9PM Si Te Dejaron En San Antonio, y A Las 12 Del Medio Día Para Nuestros Amigos En Tokyo!... Más Información Pronto!!!
EP RELEASE SHOW JANUARY 23rd * 7pm SF TIME! / 9pm In San Antone!
Mas Información Pronto!!!
More Information Soon!!!